HAWKHURST BROADBAND
ITS ARRIVED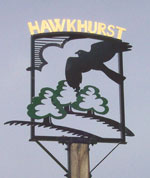 Hawkhurst now has the luxury of broadband.
With 5000 population, the largest village in Kent it will help
community and businesses.
What are you missing?
High speed internet use, while still leaving your phoneline free!
Video/films
Games
Video/chat facility
Fast fast fast downloading from the internet
On line 24 hours a day
Get FREE CONNNECTION FREE MODEM and
great service for £19.99 per month
If you are desparate to get going there are satellite broadband connections:
Check out http://www.ehotspot.co.uk/
and http://www.satellite-adsl.co.uk/
For more info about Hawkhurst,Kent
A directory and guide to Hawkhurst for residents, visitors and business.